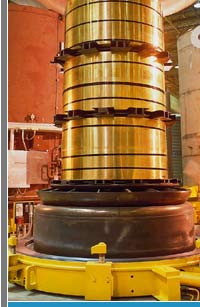 HEAT TREATMENT FURNACES , Bell Annealing furnace, Rotary Retort, Gas carburising furnace, carbonitriding, Pit Pot Annealing, carburizing, Ovens, industrial oven, Hardening, Gas Nitriding, Tempering, Stress relieving, Normalising are the main products of EM EM ENGINEERS which provides wide range of products, which includes all types of heat treatment furnaces, industrial furnaces, Industrial ovens and other engineering goods. The furnaces and ovens can be Electrically heated, Oil Fired, Gas fired or Dual fired as per the application or need of the customer. Almost all of the furnaces are ceramic fibre lined so as to give maximum efficiency and are designed for minimum heat losses.

Quality Assurance

EM EM ENGINEERS is one such place where superior quality products and customer satisfaction go hand in hand. The company ensures that all its products are made in accordance with international market trends. All the products are made of quality raw materials to give the products an upper hand . The company follows stringent quality checks as its last measure to ensure that the products are of world-class quality.

Our Mission
To Provide industry a good quality product keeping in mind the need of customer and use the maximum engineering to get maximum output from our products.

Contact Information
HEAD OFFICE:

EM EM ENGINEERS
A-4/235, PASCHIM VIHAR,
NEW DELHI-110063.

(INDIA).

Mob: +91-9810430765
Mob: +91-9

015237001


E-mail: sales@mmfurnaces.com , mmfurnaces@gmail.com
[ Home ] [ News ] [ Company Profile ] [ Products ]

E-mail us: sales@mmfurnaces.com , mmfurnaces@gmail.com