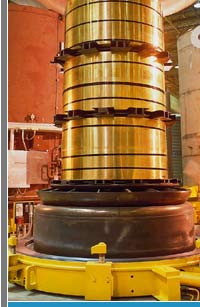 Heat Treatment Furnaces , Bell Annealing furnace, Rotary Retort, Gas carburising furnace, carbonitriding, Pit Pot Annealing, Caubirizing, Ovens, industrial oven, Hardening, Gas Nitriding, tempering, stress relieving, normalising, box type, bogie hearth, are the main products of EM EM ENGINEERS which provides wide range of products, which includes all types of heat treatment furnaces, industrial furnaces, Industrial ovens and other engineering goods. The furnaces and ovens can be Electrically heated, Oil Fired, Gas fired or Dual fired as per the application or need of the customer. Almost all of the furnaces are ceramic fibre lined so as to give maximum efficiency and are designed for minimum heat losses. If the furnace required by you is not in the following list E-mail us for your specific requirement. Some details about our products are as follows:


Bell Type Furnaces
This furnace is widely used for annealing of steel coils. The coils can be of steel strips, steel wire or any other shape which can be loaded in the furnace. The furnace can be electrically heated, oil fired or gas fired.
Electrically Heated Tilting type Rotary Retort Furnace can be used for hardening and tempering of various items such as screws, nuts, chain links, springs, bearing races, needle, balls etc.
Pit-Pot Type Annealing Furnaces
Pit - Pot Type Annealing Furnaces are basically used for Annealing of Carbon steel wires, rods, forgings, and other components made our of steel which require annealing for further processing.
Gas carburising furnace is basically pit-pot type furnace used for hardening / case carburising / case hardening / carbonitriding of various components made of steel such as auto parts, gears, precision turned components, construction machinery parts and any other component needing hardening.




This furnace is used for nitriding of various components such as auto parts, precision turned components, construction machinery parts and any other component needing nitriding. The furnace is equipped with automatic temperature control, hydraulic lifting , ammonia feeding system etc.

Salt Bath furnaces >> Inquire Now

These furnaces are used for Cyniding, Carbonitriding, Nitriding, Hardening, Direct Hardening of Various steel components such as Auto parts, Bicycle parts, textile machinery components, precision turned components, and many other related products. The furnace can be Electrical, Oil fired or Gas Fired depending upon the requirement.

Pit Type Forced Air Circulation Tempering Furnaces

These furnaces are used for tempering of components which are already hardened / Case hardened by Gas carburising or Rotary Retort Furnaces to get the final desired properties.

Muffle / Box / Chamber Type Furnace

These are rectangular Furnaces and can be made according to our standard sizes or as per the custom size specified by the customer. These can be used for Hardening, Tempering, Stress Relieving, Normalising, Drying and other applications upto 1100 Deg C.

We are also manufacturing furnaces for Aluminum Melting, Copper Melting, Brass Melting, Zinc Melting etc.

These furnaces are used for various Heat treatment Applications like Hardening, Annealing, Normalizing, tempering or any other specific need of the customer.
These furnaces are continuous furnaces where charge is loaded from one end and output is taken from other end after doing the process in between. It is widely used for mass produced item where production required is very high.
The ovens find wide variety of applications in the industry from core baking to powder coating. We can manufacture ovens as per the specific needs of the customer.
All Kinds of Furnaces spares such as SS Pots, Fan Assemblies, Furnace lining Anchors as per the requirement of the customers for their existing furnaces.
Heating Elements for all types of furnaces and ovens in raw form as wire, strip or finished form such as coil, strip corrugated, Rod over Bend (ROB), Radiant Tube, . Both Nickel Based Alloys and Ferrous based alloys are available in all forms. Elements having melting temperatures upto 1650 Deg C and continuous furnace running temperature up to 1600 Deg C are available with us. We can supply Heating Elements for all type of furnaces.
We can make the heating system as the specific need /design of the customer depending upon his specific requirements for heating system.
We also undertake repair / modification / renovation / Relining /conversion from Electric to Oil / Gas or vice versa as per the requirement of customers for their existing furnaces to get maximum benefits from the existing system.
With our own well equipped Fabrication Shop we can do any stainless Steel Fabrication as per the design / drawings provided by the customer for any requirement.