COMPANY PROFILE
INTRODUCTION:
M/s PROLIFIC ENGINEERS (www.prolific.co.in) and EM EM ENGINNERS (www.mmfurnaces.com) are headed by Chartered Engineer Mr. MANISH KUMAR SOOTA who is a well qualified and experienced man of the field of Industrial / Heat Treatment . He is a Bachelor in Mechanical Engineering BE(MECHANICAL ENGINEERING) and have a Business management qualification (MBA) to add to that. Both the firms are engaged in the Designing and Manufacturing Industrial Heat treatment Furnaces. Er. MANISH KUMAR SOOTA is working in the field since 1993. The Company has experience of around 15 years in the same line of business since 1995.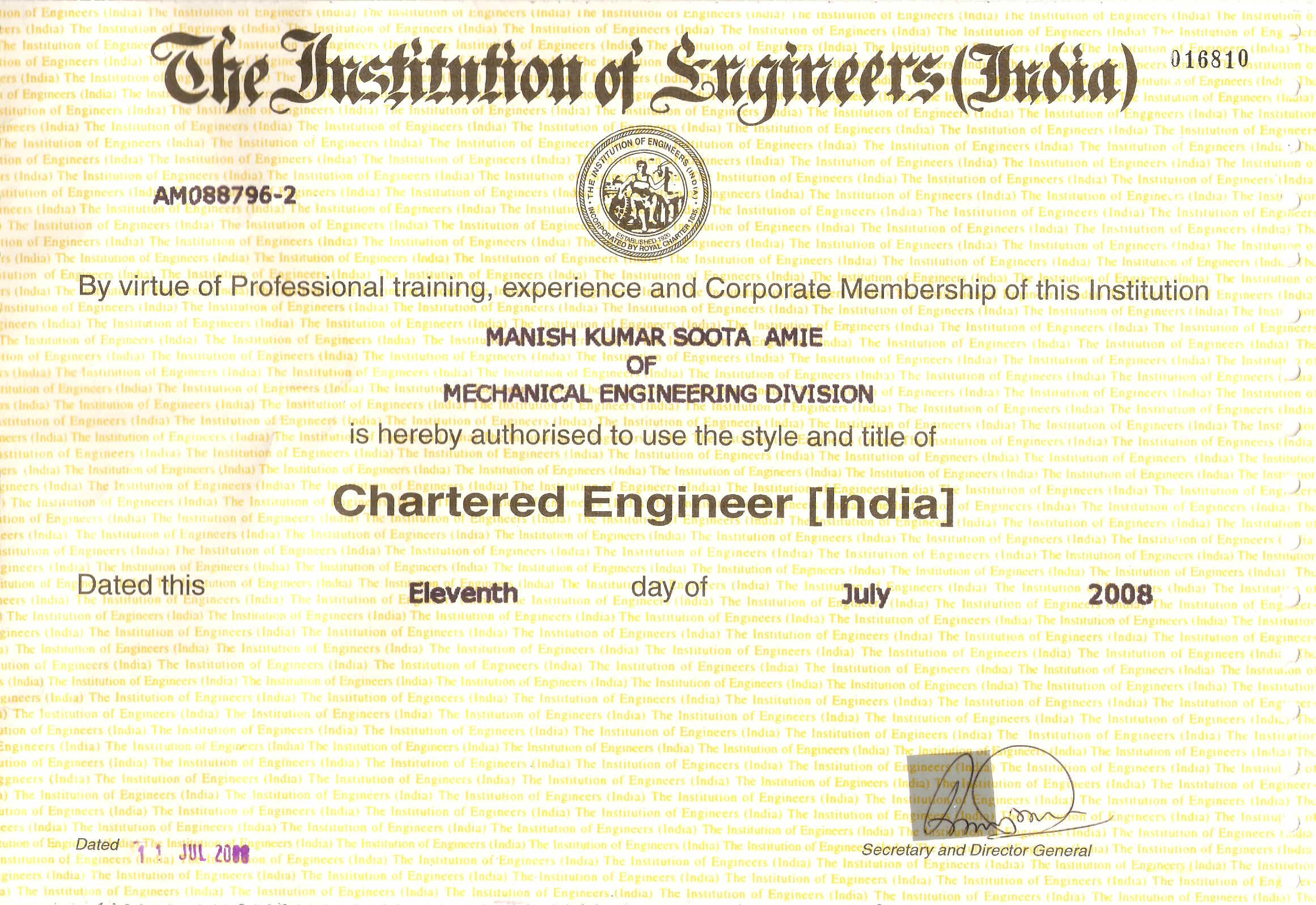 CHATERED ENGINEERS CERTIFICATE
PROLIFIC ENGINEERS is 100% Export oriented unit is based in NOIDA SPECIAL ECONOMIC ZONE- NOIDA near New Delhi whereas EM EM ENGINEERS caters to demand of Indian Industry.
The furnaces to be manufactured by us are mostly used for heat treatment of Ferrous and Non- Ferrous metals. These furnaces are used in almost all industries making/processing or manufacturing various products for different applications. You can see detailed product range on our websites as stated above.
We also have melting furnaces used to melt Aluminum, Zinc, Lead and we also make custom based heating Systems as per the requirement of customer. Heating in one form or the other is required by all industries. We presently make any furnace with maximum Temperature upto 1200 Deg C for various kind of Industries and applications.
We started exporting our products in 2003 and we have already exported our products to various countries all around the world such as EUROPE, EGYPT, SAUDI ARABIA, OMAN, IRAN, KUWAIT, AUSTRALIA, LIBYA, PAKISTAN, KENYA, INDONESIA, MALAYSIA, NIGERIA, SRI LANKA, etc. On our Export performance Development we have been allowed to establish our factory in NOIDA SPECIAL ECONOMIC ZONE (TRADE FREE ZONE) IN NOIDA near NEW DELHI.
Please visit our websites www.prolific.co.in and www.mmfurnaces.com for more details.
Visitor No: